Archive for the 'celebrity' Category
DID YOU KNOW THAT…
4 out 5 Americans suffer from back pain.
Back pain, now the most common disability in the United States, is the number one reason people go to the doctor or miss work.
In fact, every year nearly 12 million Americans make new-patient visits to physicians for back pain and one hundred million visit chiropractors.
WELL…
A few weeks ago, The NewYork Times, published an article entitled,  Common Back and Leg Pain Treatment May Not Help Much, Study Says. Basically, the article talks about a study recently published in the New England Journal of Medicine that shows the common and widely used treatment for lower back and leg pain caused by stenosis — a stenosis injection which combines a steroid and a local anesthetic is INEFFECTIVE.  In fact, the article goes on to say doctors and patients should think twice about using the treatment at all.
AJGpr client, Dr. Norman Marcus, one of the nation's leading specialists and a pioneer in the treatment and relief of chronic pain, and author of End Back Pain Forever: A Groundbreaking Approach to Eliminate Your Suffering, has been saying this for YEARS!
Dr. Marcus contends that, "One reason why this approach is ineffective is that the pain in the back and leg may not be the result of the narrowing or other supposed abnormalities seen on the MRI or CT scan. It is well known that very few (in one published article – less than 10%) scans of the low back in adults are read as normal; as many as 40% of adults with no back pain have herniated discs, and 70% have degenerated discs."
Named one of the "Best Doctors in New York for pain management" by New York Magazine and founder of the Norman Marcus Pain Institute, Dr. Marcus responded to the The New York Times article and the New England Journal of Medicine study in his blog Epidural steroids are not effective for spinal stenosis.
——————————————————————————————————————————————
I have been suggesting for many years that there is an overuse of spinal injections and surgeries for low back and leg pain, so it was no surprise when I read an article in The New York Times (NYT) that reported on a study recently published in the New England Journal of Medicine[1] about patients with spinal stenosis who are frequently treated with a procedure that has been shown to be ineffective. Epidural steroid and lidocaine injections for patients found to have spinal stenosis were no better than epidural injections of lidocaine alone. In chapter 4 of my book End Back Pain Forever I discuss the many reasons for back pain. MRIs and CT scans of the low back will almost always find something such as spinal stenosis or a degenerated or herniated disc even in patients without pain. Therefore the US Institute of Medicine suggests that these imaging studies should not be done routinely since what you find in the study is frequently not the cause of your pain. The most common cause of back pain is muscles and other soft tissue. If you treat the diagnosis you got from the MRI or CT and the actual reason for the pain is muscle, it makes sense that the treatment will frequently fail, which it does!
The NYT report of this relatively large, randomized, double blind, controlled study clearly demonstrates the ineffectiveness of the use of steroids for symptoms attributable to spinal stenosis (narrowing of the canal in the spine which contains the spinal cord) which occurs frequently as we age. The treatments most often provided are epidural steroids to theoretically reduce the inflammation of the nerves being squeezed by the narrow canal, and surgery to widen the canal. Both approaches have a significant failure rate.
At the Norman Marcus Pain Institute we have shown in multiple published articles that one reason why these approaches are ineffective is that the pain in the back and leg may not be the result of the narrowing or other supposed abnormalities seen on the MRI or CT scan. It is well known that very few (in one published article- less than 10%) scans of the low back in adults are read as normal; as many as 40% of adults with no back pain have herniated discs, and 70% have degenerated discs. So it is "normal" to find an abnormality.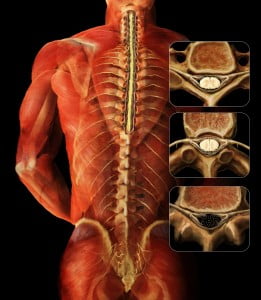 Our unique physical examination, utilizes an instrument I developed, reveals that many patients with back and leg pains have areas of muscle tenderness that are the source of their pain yet are overlooked. One study of more than 23,000 patients[2] found that 70-80% of patients with back pain were diagnosed with sprains and strains of muscle and other soft tissue. It's hard to believe then, armed with this knowledge, that muscle examination and treatment is not part of the typical standard of care for back pain in the USA[3]. If we are to properly address the cause of most back pain, the evaluation and treatment of its muscular causes must be addressed.
---
[1] Friedly JL, Comstock BA, Turner JA, et al. A Randomized Trial of Epidural Glucocorticoid Injections for Spinal Stenosis. New England Journal of Medicine. 2014:374:11-21.
[2] Deyo RA, Weinstein JN. Primary care – low back pain. New England Journal of Medicine. 2001:5:363-70.
[3] Chou R, Qaseem A, Snow V, Casey D, Cross JT, Shekelle P, et al. Diagnosis and Treatment of Low Back Pain: A Joint Clinical Practice Guideline from the American College of Physicians and the American Pain Society. Ann Intern Med. 2007;147:478-491.
How do you define bratty behavior and how do you stop it? 
That is the question Hallmark Channel's Home & Family co-hosts, bestselling author and chef Christina Ferrare and personality Mark Steines asked AJGpr client — parenting expert Betsy Brown Brown.
Betsy affirmed, "What parent hasn't thought her child was a brat at one point or another And what child hasn't been a brat at one point or another?" However a parent defines brattiness —
Your child resorts to crying or yelling when they want something.
Your child constantly throw tantrums when they don't get what they want.
Your child is rude to you, other adults, and even to other children.
Your child refuses to share with other children.
Your child always has to be the center of attention.
the list goes on… whether your child really is a brat, at risk of becoming one, or is simply trying to grow up, Betsy, a renowned child development and behavior specialist, shares her tried and tested brat busters with the Home & Family audience.
Tune in on Tuesday, March 18th at 10:00 am/9:00 am Central to watch Betsy Brown Brown talk about "How to Bratproof Your Child" on Home & Family.
ABOUT BETSY
Betsy is the bestselling author of Just Tell Me What to Say: Sensible Tips and Scripts for Perplexed Parents (HarperCollins) and You're Not The Boss Of Me: Bratproofing Your Four To Twelve Year Old (HarperCollins). She blogs on parenting for the Huffington Post and has an "Ask Betsy" column in the Pailsadian Post and is an expert source for the on line parenting video resource Kids in the House.
Gym Comedy Dumbbells Is Surprisingly Sweet at Its Core
Village Voice
Dumbells, created by two actors…is a competent…gym-scene comedy
Los Angeles Times 
Dumbells,  set at a Los Angeles fitness center… at last…the satirical takedown this subject deserves
The New York Times 
AJGpr client Hoyt Richards co-wrote, co-produced and co-wrote Dummbells, a buddy comedy which, opens today January 10th in 13 cities across the United States.
New York City—–Village East
Los Angeles—–Crest Westwood
Atlanta—–AMC Southlake Pavilion
Chicago—–AMC Cicero
Dallas—–AMC Valley View
Ft Myers—–AMC Merchant Crossing
Milwaukee—–AMC Sart 12 Johnson Creek
Minneapolis—–AMC Showplace 16 Inner Creek
Little Rock—–Market Street Cinema
Ft Wayne—–Cinema Center
Juneau—–Goldtown Cinema
Detroit—–Cass City Cinema
Costa Mesa—–Triangel Square
Orlando—–Southcase 7 Cinema
Eugene—–Bijou Metro
DUMBBELLS follows Chris Long (Brian Drolet), an ex-NCAA star turned trainer who finds new purpose when his gym's shallow new owner, Jack (Hoyt Richards), unleashes a lucrative plan to turn the neglected business into a reality show. When Chris' complacent peers resist this new direction, he and Jack form an unlikely alliance that allows them to face the demons of their pasts and ultimately, save their gym's future.
Look for hilarious cameos by Carl Reiner and  eccentrics Tom Arnold, Jay Mohr, Jaleel White, Andy Milonakis, and Fabio!
Miley Cyrus — "I gave her those legs" says Mari Winsor
Yesterday, PeopleStyleWatch.com, published a story on Miley Cyrus's style choices and interviewed AJGpr client, the Queeen of Pilates, Mari Winsor about her contributions to Miley's fab abs and long, lean leg as her personal Pilates trainer.
———————————————————————————————————-
Miley Cyrus's Pilates Instructor, On How to Get the Star's Crop Top-Ready Abs and Super-Lean Legs
Regardless of our thoughts on Miley Cyrus's sartorial choices these days there's no denying that she's gotten herself into amazing shape in order to wear the, shall we say, often skimpy getups she now favors.
So while we're not sure we ourselves would wear a pink satin bra and mini with creepers to our own album release party (and this is the tamer of the two outfits she wore) we are interested in how one would shape up to look that good in that outfit.
Enter Mari Winsor, an L.A.-based Pilates instructor whose studio Cyrus has been spotted leaving many times this year. "I gave her those legs," Mari tells PEOPLE of Cyrus's now oft-exposed stems. "She's always going to have those long gorgeous legs. We just toned and firmed in all the right places."
After Cyrus got sick of the paparazzi following her to her daily workouts, she installed a studio in her own home, where Winsor pays house calls when Cyrus's busy schedule permits. "She wants to be healthy, she wants to have good abs," Winsor says. "It always makes her feel better and clearer when she works out."
So what's on Cyrus's Pilates routine that keeps her in such amazing shape? "When we work out we don't just do a couple of moves," Winsor says, adding they do the sidekick series and Cadillacs for legs and butt, then plenty of ab work to ensure Cyrus can get into a crop top on a moment's notice. "It's at least a half an hour of working out … You have to learn how to not just tighten up your tummy but actually pull your tummy in to your lower back as much as you can," she says. "Just doing 40 crunches a day isn't gonna do it for you."
Want to see Cyrus's favorite moves in action (and work towards your own set of leg-baring granny panties)? Winsor's latest DVD is Pink Ribbon Pilates, which donates a percentage of proceeds to the Breast Cancer Research Foundation. And though twerking is not on the DVD, Winsor says she fully supports that portion of Cyrus's workout routine as well. "Doesn't every woman like to shake their booty a little bit? C'mon!" she says. "It feels good to shake that s–t loose a little bit."
Sign up for Mari Winsor's newsletter at the bottom of her winsorfit home page here.